August 7, 2012
By: Robert Moon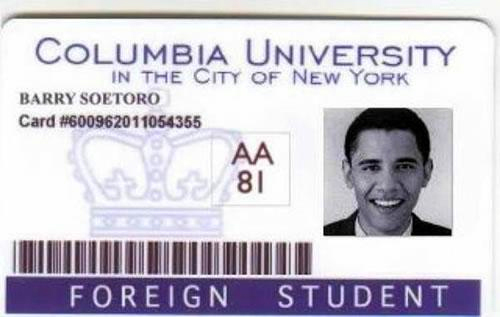 An Obama classmate from Columbia University called him out this week for stirring up a bogus smear campaign against Romney over his taxes, insisting that Obama's motive is not only to distract voters from the worst economic recovery in post-WWII history, but also to avoid a far more scandalous and devastating skeleton Obama has hiding in his own closet…buried deep inside those college records he still refuses to unseal (and has paid millions to keep under lock and key).
From Wayne Allyn Root (via The Blaze):

If anyone should have questions about Obama's record at Columbia University, it's me. We both graduated (according to Obama) Columbia University, Class of '83. We were both (according to Obama) Pre-Law and Political Science majors. And I thought I knew most everyone at Columbia. I certainly thought I'd heard of all of my fellow Political Science majors. But not Obama (or as he was known then- Barry Soetoro). I never met him. Never saw him. Never even heard of him. And none of the classmates that I knew at Columbia have ever met him, saw him, or heard of him.
But don't take my word for it. The Wall Street Journal reported in 2008 that Fox News randomly called 400 of our Columbia classmates and never found one who had ever met Obama.
In other words, Obama is going to great lengths to prevent the release of his records from a school that no one remembers him attending (which means he either completely lied about graduating there or failed a lot of classes, which would prevent him from getting financial aid) and that he had no means of paying for at the time.


Continues at examiner.com
--------------------------------------------------------------------------------------------------------
It's very odd, everything at Occidental College checks out, people remember the charismatic Barry or Barack Obama. Columbia however is a much different story.
---------------------------------------------------------------------------------------------------------
From Citizen Wells
citizenwells
"Obama's College Classmate: "The Obama Scandal is at Columbia""
"I am President Obama's classmate at Columbia University, Class of '83. I am also one of the most accurate Las Vegas oddsmakers and prognosticators. Accurate enough that I was awarded my own star on the Las Vegas Walk of Stars. And I smell something rotten in Denmark. Obama has a big skeleton in his closet. It's his college records. Call it "gut instinct" but my gut is almost always right. Obama has a secret hidden at Columbia- and it's a bad one that threatens to bring down his Presidency. Gut instinct is how I've made my living for 29 years since graduating Columbia.
Obama and his infamous strategist David Axelrod understand how to play political hardball, the best its ever been played. Team Obama has decided to distract America's voters by condemning Mitt Romney for not releasing enough years of his tax returns. It's the perfect cover. Obama knows the best defense is a bold offense. Just keep attacking Mitt and blaming him for secrecy and evasion, while accusing him of having a scandal that doesn't exist. Then ask your lapdog Senator Harry Reid to chase the Frisbee. The U.S. Senate Majority Leader is now making up stories out of thin air, about tax returns he knows nothing about. It's a cynical, brilliant and vicious strategy. Make Romney defend, so he can't attack the real Obama scandal.