Wednesday, December 08, 2010
UN peacekeepers likely cause of Haiti cholera outbreak
By Jonathan M Katz
11:38 AM Wednesday Dec 8, 2010
bluebeerriver.blogspot.com
PORT-AU-PRINCE - A contingent of UN peacekeepers is the likely source of a cholera outbreak in Haiti that has killed at least 2,000 people, a French scientist said in a report obtained by The Associated Press.
Epidemiologist Renaud Piarroux concluded that the cholera originated in a tributary of Haiti's Artibonite river, next to a UN base outside the town of Mirebalais.
He was sent by the French government to assist Haitian health officials in determining the source of the outbreak, a French Foreign Ministry official said.
"No other hypothesis could be found to explain the outbreak of a cholera epidemic in this village ... not affected by the earthquake earlier this year and located dozens of kilometres from the coast and (tent) camps," he wrote in a report that has not been publicly released.
The report also calls for a further investigation of the outbreak, improved medical surveillance and sanitation procedures for UN peacekeeping troops and better support for Haitian health authorities.
Full Article nzherald
Posted by texlahoma at Wednesday, December 08, 2010
Labels: UN peacekeepers likely cause of Haiti cholera outbreak
6 comments:
YELLOWDOG GRANNY said...
that doesn't make any sense..but very sad..them poor people
Dec 8, 2010 10:01:00 PM
texlahoma said...
YDG - It makes sense to me.
"Epidemiologist Renaud Piarroux concluded that the cholera originated in a tributary of Haiti's Artibonite river, next to a UN base outside the town of Mirebalais."
A bunch of UN people that didn't properly set up sanitation, their ungodly amount of shit goes into the river, the people drink that water and there you go, cholera.
"We're from the UN and we're here to help!" (Help you die that is.)
Dec 9, 2010 10:25:00 AM
crazy4coens said...
I'm with Yellow - even with the explanation, it don't make no sense!
Dec 9, 2010 8:59:00 PM
texlahoma said...
Crazy4 - I don't get where you are coming from. UN feces going into a river that they drink from can't cause cholera? What do you think happened? Are you going to look into it and find another explanation? I hope so, then maybe I could understand your mind.
I'm not dead set on this explanation but how do you just dismiss it without any alternative explanation?
Dec 13, 2010 10:57:00 AM
crazy4coens said...
Well, now that you put it that way.....Since I don't even really know where cholera comes from - I mean do normal healthy people carry it? Whey the UN peacekeepers, why not the Doctors Without Borders camp or some other camp? But I am not going to research it, so.......
Dec 13, 2010 1:27:00 PM
---------------------------------------------------------------------------------
Ethan A. Huff
Natural News
January 15, 2012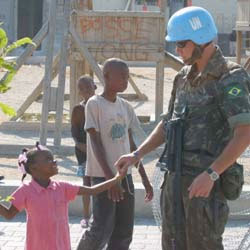 (NaturalNews) The devastating earthquake that slammed Haiti back in January 2010 obviously left the poverty-stricken country in even worse economic and infrastructural shape than it was prior to the disaster. But the arrival of United Nations (UN) peacekeepers shortly thereafter made things even worse, at least according to many scientists and experts who say that these officers brought in a deadly "superbug" strain of cholera that has already killed at least 7,000 Haitians.
Prior to the arrival of UN peacekeepers in Haiti, there had never been a single known case of cholera in the country. But
ABC News
reports that top scientists involved with researching the source of this mysterious disease outbreak have concluded that all the factors point to UN peacekeepers as the source of the outbreak, a claim that UN officials say cannot be proven.
But the strain identified in Haiti is the exact same strain that caused an outbreak in Nepal, where the UN peacekeepers had been prior to arriving in Haiti. And a "sanitary breakdown" at an encampment along a Haiti river where these UN troops were staying also happens to be the same spot where the first cases of cholera showed up in Haitian natives, who had bathed in and drunk the water next to the encampment.
UN officials, on the other hand, insist that it cannot be proven that its peacekeepers are responsible for the outbreak. But scientists well-versed in the facts say there is no other possible explanation for the outbreak, which has now reportedly spread to Venezuela, the Dominican Republic, and even in major US cities like Boston, Miami, and New York.
"The scientific debate on the origin of cholera in Haiti existed, but it has been resolved by the accumulation of evidence that unfortunately leave no doubt about the implication of the Nepalese contingent of the UN peacekeeping mission in Haiti," French epidemiologist Renaud Piarroux is quoted as saying by
ABC News
.
Furthering that notion, Mark Weisbrot, co-director of the Center for Economic and Policy Research in Washington, DC, reportedly told the media that the UN's denial of responsibility for the outbreak is "outrageous," and even went so far as to suggest "gross negligence" on behalf of the international governing body who allowed the deadly disease to spread to unfamiliar territory.
Among all the areas hit by cholera infection in recent months, Haiti has suffered worst of all due to its inadequate sanitation infrastructure. Cholera typically thrives in third-world countries that lack clean water and proper waste disposal, both of which are lacking in battered Haiti.
Sources for this article include:
http://news.yahoo.com/scientists-un-soldiers-brought-deadly-superbug-americas-194141189–abc-news.html