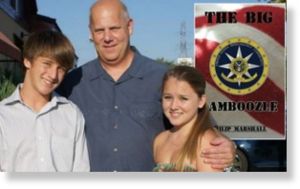 After a week-long on-site investigation, former National Security Agency officer
Wayne Madsen
is "100% certain" that 9/11 investigator and author Philip Marshall and his two children were killed in a black ops hit. Madsen's conclusion is that the cover story - an alleged murder-suicide - is transparently absurd.
Madsen stated his conclusions on
yesterday's Kevin Barrett show
. Among the evidence cited by Madsen:
*Neighbors' houses are "practically on top of" Marshall's house, so dozens of neighbors would have heard any gunshots that weren't muffled by a silencer...and Marshall's "patsy gun" did not have a silencer.
*The crime scene was illegally and surreptitiously cleaned up by professionals, including "a SUV, license undetermined, with an array of communication antennas bristling from the roof."
*Philip Marshall, who had expressed his fear of being harassed or silenced for his 9/11 revelations, never kept his doors open - but when the bodies were found, a side door Marshall never used was wide open.
According to Madsen, all of Marshall's neighbors believe it was a professional murder, not the murder-suicide claimed by corrupt local police, who have presumably been told what to do and say by higher authorities working on behalf of "national security."